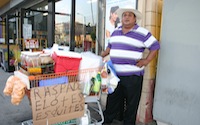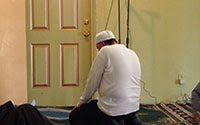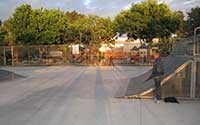 South Central Skate Park on Verge of Collapse
Since public funding has been taken away from Gilbert Lindsay Recreation Center's skate park, it has fallen into disrepair, and skaters have struggled to find a place to legally craft their skill.
Andres Ramirez is back in the bike shop once again with his hand-me-down bicycle.
When it works, Ramirez glides down the streets on his Steyr Clubman bike, "Made in Austria" etched on the front. But since September, when he got the yellow bicycle from his uncle, Ramirez estimates he has had to take it in for repairs at least 10 times.
"The tires are always popping on me, the brakes, I haven't fixed them," Ramirez said. "The front tire, I didn't tighten it right I guess, and it fell off. I ate it nasty."
Falling off because of a loose tire was not the scariest moment the 19-year-old South Los Angeles resident has gone through on a bicycle. Last year, Ramirez was riding on Main Street back to his house. A car was rolling down the same street with a man and a woman in the front seats. Ramirez says they were arguing with each other and did not put their blinker on to signal a left turn onto 54th Street. The car turned and struck Ramirez, sending him flying through the air then crashing back to the pavement. He had to get stitches and go through physical therapy.
Ramirez's accident occurred in a neighborhood that usually has plenty of bicyclists around. But the only nearby bike lane is a one-mile stretch of Martin Luther King Jr. Boulevard between Main Street and Central Avenue.
Javier Sanchez would support adding new bike lanes in the neighborhood. He works at Paisano's Bike Shop near Main Street and Vernon Avenue. Sanchez recognizes the neighborhood around the shop is a "commuter area" for people riding and driving to jobs at factories to the north and to the east.
Sanchez has seen many car drivers get angry with bike riders in the area. Drivers will sometimes yell at him, "Get off the road! Get on the sidewalk," or, "Why are you turning left on the signal?" He takes it as part of the learning process.
"We have a lot of people that are very ignorant to the law, people don't know the law," Sanchez said. "Some people hate people on bikes, for whatever their reasons may be, that they cut 'em off. But people always cut each other off.
However, bicycle safety is a two-way street (pardon the pun). The Los Angeles County Bicycle Coalition has created a Neighborhood Bike Ambassador Program "to work on neighborhood-scale projects and organize local support for bike projects." LACBC Policy & Campaigns Manager Alex Bartrosouf says part of the effort is making sure cyclists are following the rules too.
"It's really going back to the basics with the South group," Bartrosouf said. "There is a real concern about educating bicyclists about what side of the road they should be riding on, basic bicycle etiquette, letting the drivers around you know what you are going to do."
The LACBC began to conduct monthly meetings in South L.A. as a part of the Neighborhood Bike Ambassador Program. While initial meetings had a few as four people, they have grown to a couple dozen people since then. The focus is on improving communication between the community and city leaders, who are working to carry out a Bike Master Plan put forward in 2010.
"We're trying to make that connection with the city," Bartrosouf said. "We're also channeling the community's concerns through this group onto the city and their staff, so that they know the needs of the community, and what they think needs to be done in the short-term and long-term."
It is becoming safer and safer to ride a bicycle in Los Angeles, according to the most recently available statistics. Between 2006 and 2010, the number of annual injuries due to bicycle collisions in the city dropped by 15 percent, based on reports from the California Office of Traffic Safety. However, that still leaves about 29,000 people injured every year.
One important project to improve safety in the neighborhood will be the implementation of a bike lane on Central Avenue, which Bartrosouf calls "a huge North-South connector up to downtown," by 2014. The 2010 Los Angeles Bike Master Plan also calls for an eventual bike lane on Main Street, the same street where Ramirez was injured.
"It didn't stop me from getting back on the bike," Ramirez said about the accident.
The only thing stopping Ramirez now are visits to the shop to make sure the old yellow bicycle from his uncle stays together.
---