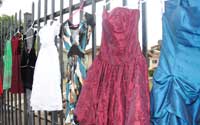 Clothes on the Streets
This is a look into clothing vendors in unexpected places: on the streets and outside people's homes.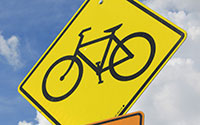 Staying Safe On The Bike
In a neighborhood with only one mile of bike lanes, people are out to improve bicycle infrastructure and safety.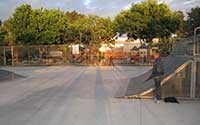 South Central Skate Park on Verge of Collapse
Since public funding has been taken away from Gilbert Lindsay Recreation Center's skate park, it has fallen into disrepair, and skaters have struggled to find a place to legally craft their skill.
Way, way back in the 1930s and 40s, Central Avenue in Los Angeles was the most popular destination for jazz on the West Coast.
The jazz scene died off in the early 1950s, and now very little remains of the once vibrant musical community.
Would you believe, however, that this community still actually exists today in many ways? While the musicians of the Central Avenue era have mostly passed on, they directly influenced a whole new generation of jazz and R&B artists including Patrice Rushen.
"Even though I didn't grow up during Central's heyday, we still had records," says Rushen. "There was a time when we could tell that there was a certain shift in the music, and as young musicians we learned immensely from all of these mediums."
Rushen is head of the popular music department at USC. More importantly, she is a member of the next generation of talented musicians that were raised by Central Avenue. Patrice Rushen grew up in Los Angeles not too far away from Central Avenue, and matured as Central Avenue jazz began to lose prominence. Despite the death of the scene, she has had an extremely distinguished music career, including working with the likes of her mentor Quincy Jones. She was also nominated for a Grammy in 1982 for her hit single, "Forget Me Nots". Even with all of her success, Rushen has not forgotten the place that influenced her more than any other.
"No matter where you are, people before you have kind of opened the door and…[the artists of Central] were no exception for me," she says. "Knowing what they did makes you want to work harder to maintain that legacy."
Indeed, Central Avenue was a place where barriers were broken, as it was the preeminent place for black jazz musicians to showcase their work. Artists like Rushen, who are undeniably talented, may not have had the same chances that they did to achieve recognition had it not been for the many pioneers of Central, such as the area's first prominent female musician Clora Bryant. In fact, when mentioning Bryant, all of those acquainted with Los Angeles jazz stop and pay their respects.
"Clora…was a trailblazer," says James Janisse, one of Los Angeles' most recognized jazz radio DJs and the self-proclaimed "Gentleman of Jazz". "She stepped out there on her own and confronted the prejudice against women at that time, and black women especially."
Janisse, like Patrice Rushen, was not raised during Central Avenue's heyday. The truth is that very few people alive today were around to see the region in its prime. Even so, Janisse was inspired by the incredible music coming out of the area by stories from his parents.
"What I knew of Central Avenue when I was a young boy is that that was where my mother and father went when we were kids!" says Janisse. "Being there back in the day would have been great, but meeting and working with many of the musicians of that time gave me more than enough appreciation for jazz."
With full context of just how influential Central Avenue was and how many famous people came through it, it is almost a travesty to see how far into disrepair the area has fallen. Even with the renowned Central Avenue Jazz Festival taking place in the area every summer, the community is nothing like it used to be and may never return to this state. However, interest in the Central Avenue corridor has not died away completely.
Instead of mourning the loss of such rich artistry, it is clear that the men and women who were impacted by Central would rather honor and continue to pass down the area's legacy. James Janisse and Patrice Rushen actively carry out Central's legacy by trying to expose this generation to some of the great jazz artists of old. At a larger level, however, Central's legacy is based on more than just people.
"Central Avenue was the heart of music that was distinctly American," says James Janisse. "You can't really say that about any other type of music, and this is what people will remember it for."