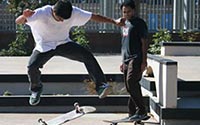 Fielding a team
Even without a financial climate to support top-notch fields, courts and facilities, South Los Angeles boasts a collection of athletes ranging from eager children to devoted skateboarders to casual enthusiasts.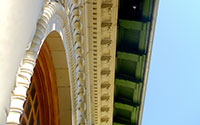 Community centrality at the circulation desk
From free Internet to family-oriented programs, patrons of all ages and librarians consider the Vermont Square Branch Library to be a valuable and central resource for needs in their community.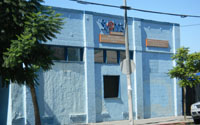 Health on the Move in South Central
Healthcare is quickly changing and progressing in the South Central community. Whether it's a new mobile medical unit that can bring medical care directly to you, a health center providing new services, or a nutritional place to grab a healthy smoothie…the topic of health is advancing.
By Jovan Buha
Nothing is off topic at Lloyd's Barber Shop.
Whether it's sports, women, sex, drugs, alcohol or just a good old life story, the crew of tenured barbers likes to have a good laugh, sit back and relax with their customers. Though similar in their passion for haircutting, the five barbers at Lloyd's couldn't more different personality-wise:
Roy, 53, is the manager with a thundering, low voice; Arnold, 55, is the quiet and wise voice of reason; Lenny, 39, is calm, cool and collected; "Big John", 46, is muscular and serious; and Gerald, 39, is the wild card who loves to talk loud and crack jokes.
All of this diversity leads to a unique environment that has a little something for everyone. So much so, that the barbershop has cultivated a loyal customer base through its 30-plus year history.
Most customers have come to Lloyd's since they were children, including Michael Johnson, a 31-year-old who's had every haircut he can remember at the barbershop.
"This is all I've ever known," said Johnson. "I feel at home here. I feel safe.
"You can open up and talk about whatever you want to talk about: ladies, football, basketball, the do's and the don'ts, the laughs and the jokes."
Lloyd's places a special focus on the community and its needs; they only charge $15 for a haircut, which is cheaper than most competitors. They're open seven days a week, and, as a result, some of the barbers work longer than 40-hour weeks.
"This shop never fell. You'll always see a crowd. We do good quality work and everybody is professional," said Arnold.
Part of that professionalism is accountability. Dozens of barbers have come through Lloyd's, as one wrong move – such as stealing, lying or disrespecting a customer – and you could find yourself out of a job.
"There's about three barbers that would do anything to come back, but they've burnt their bridge," said Lenny.
That type of cold-hearted business is what also makes Lloyd's endearing. Each barber is his own boss and there's no babysitting. You either do your job, or you don't.
"Everybody is their own boss. You pick when you come and when you leave. We can't tell them what to do," said Arnold. "If they don't want to make any money, they don't have to come to work."
Work, for the barbers, is much more than just showing up, cutting hair, and going home. It's the relationships they build, the stories they tell, and the aura of the shop. It's about the little things that add up to make Lloyd's Barber Shop the type of place people will want to come back to.
What Lloyd's lacks in appliances and features – there's no flat screen TV, air conditioning, or plush designs, which seem to be the staples of modern barber shops – it makes up for with a testosterone-filled atmosphere and an old school feel. The shop has the same floor panels, paint and wall decorations that it did over 20 years ago.
For better or worse, it's remained true to its roots.
"We've had the same soda sign for 10, 15 years. I don't know any shops with pictures like these," said Gerald. "A lot of good, old barbers have come through [here]. There's a lot of tradition here."
The barbers all have nicknames, and some of them even have handshakes with their loyal customers. Each person that walks through the door is treated like family, which is probably why the barbershop has been able to endure hardships and the down economy.
Next door to Lloyd's is 43rd Street Barber Shop, a co-tenant that's temporarily shut down for renovations. The shop was created about a decade before Lloyd's, and featured much older barbers who influenced the current group of barbers at Lloyd's and helped them set a high standard. Part of Lloyd's old-timer feel can be attributed to their time spent with the 43rd Street bunch.
"They were serious barbers. We learned a lot from them," said Lenny. "Just seeing them every day, they were slow and busy. It was their job."
Lenny's grandfather is Lloyd, the semi-retired owner and founder of the barbershop. Over an eight-year period, from 2001 to 2009, Lenny and Lloyd couldn't agree on Lenny's future as a barber. Lloyd wanted him to follow in the family footsteps; Lenny wasn't sure it was what he wanted to do with his life.
He lied to his grandfather that he was doing an apprenticeship when he wasn't. Ultimately, Lenny settled down and committed to haircutting. He even aspires to one day be the shop manager, which is a clear ode to his grandfather.
In a sense, Lenny has taken what his grandfather built and kept the tradition alive. Even though South Los Angeles can be a tough neighborhood where a myriad of problems can arise, that's never been the case at Lloyd's Barber Shop, according to Lenny.
"Everybody knows that you leave the problems at the door and just come here for the cut."
None of the barbers chose to disclose their last name for personal reasons.
Roy and John chose not to be part of the interview as well.