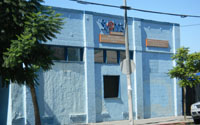 Health on the Move in South Central
Healthcare is quickly changing and progressing in the South Central community. Whether it's a new mobile medical unit that can bring medical care directly to you, a health center providing new services, or a nutritional place to grab a healthy smoothie…the topic of health is advancing.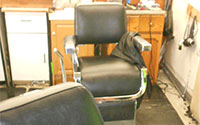 A cut above the rest
Lloyd's Barber Shop doesn't have flat screen TVs, air conditioning or polished floors, but its old-school atmosphere where no topic is off limits is the perfect hangout spot.
A haunting past, a new beginning
Regina Clifton refuses to let her scarring past define who she is today, although she will never forget the events that forced her to grow up young.
By Ivana Banh
Simply Wholesome Health Food Store & Restaurant
4508 West Slauson Avenue, Los Angeles, CA 90043

Walk into any restaurant on Slauson Avenue and you will most likely be offered greasy fried chicken, Chinese food flavored with monosodium glutamate or some sort of burger dripping with bacon grease. Simply Wholesome is different. The bright green building boasts glowing lights, floor-to-ceiling windows and a welcoming vibe. Inside the spacious restaurant, regulars are greeted with hugs from owner Percell Keeling and the young waiters. Upbeat jazz music plays loudly while blenders whip up protein shakes. The air is scented with blend of sweet potatoes, spices and freshly baked vegan cake.
As a former Redondo Beach health nut with a passion for distance running, Keeling knows what the human body needs to function properly. When he moved to Los Angeles in the 1970s, he immediately discovered that very few health-conscious restaurants existed. The majority of the South Los Angeles was African-American and tended to serve artery-clogging Southern meals. Keeling was often forced to drive out to South Bay, Hollywood or Marina Del Rey for more nutritious food. Little did he know, his exasperation with the junk food in the area would lead to something much bigger - one day, while he was voicing his complaints, a friend suggested that he open his own restaurant. At the time, any type of establishment offering foods that were not deep-fried and bacon-adorned was practically unheard of.
"Everyone was saying to open the restaurant further west because black people don't eat healthy," Keeling said. "But I'm black and I eat healthy!"
In 1981, Keeling opened Simply Wholesome. For the first few years, the 1,000 square-foot restaurant offered a small selection of healthy sandwiches, salads and pastries. As the fan base rapidly grew, Keeling knew he had to expand in order to accommodate the diners. In 1995, he bought a 5,000 square-foot 1950s-style diner. He renovated the building to construct a dining area and a small health market. Keeling and his staff work to ensure that the market is always stocked with organic cereals, frozen meals, coconut water and probiotic drinks. In addition, the market carries Mixed Chicks and Kinky-Curly, hair product lines designed for African American hair. Shoppers can also browse the wide selection of cookbooks and health literature.
Simply Wholesome's extensive menu offers more choices than most health food restaurants. Many mistake Simply Wholesome as a purely vegan restaurant, but Keeling assures that meat dishes are also available. Their specialities include flaky Caribbean pastries filled with spiced chicken and vegetables, enchiladas, veggie burgers and hearty breakfasts. Those who prefer a more traditional meal often choose the "Down Home Sunday Dinner," which consists of battered or grilled tofu, chicken or fish, candied yams, greens, rice and corn bread. As for the beverage menu, 45 different protein shakes and smoothies are available. Rather than using premixed blends full of sugar and artificial flavorings, Simply Wholesome opts for fresh fruit, soy milk and coconut juice. Customers often pay a few extra cents for add-ons such as wheat germ, bee pollen and ginseng.
"All our shakes are made from fresh, real ingredients so they're not bland like the other juice places out there," Keeling said. "It may cost more to do it this way, but the return in business volume is all worth it."
Simply Wholesome's large and devoted fan base has proven Keeling's business theories correct. The restaurant is now more than a convenient stop for those passing through the South Los Angeles area; Keeling has met diners from dozens of miles away that make Simply Wholesome their breakfast, lunch or dinner destination. The restaurant may sit in a pre-dominantely African American area of Los Angeles, but it receives customers of all ethnicities and backgrounds. Over time, the menu has also been influenced by the diversities in the Los Angeles community. Caribbean, American, Mexican and African flavors work together to create Simply Wholesome's plethora of healthy selections.
"This place is like a melting pot, the energy here - everyone is one when they come through the doors," Keeling said. "Everyone is cool."
The Pasadena and the University of Southern California communities have encouraged Keeling to open Simply Wholesome locations in their neighborhoods, but he declined their offers. When it comes to expanding his business, Keeling prefers to do so in a unique building he buys, not a cookie-cutter spot in a strip mall. The down-to-earth owner prefers to keep it simple - rather than opening several mediocre locations, he chooses to provide quality service and food in one hot spot. His goal is to foster an environment in which both his customers and staff feel comfortable and at home in.