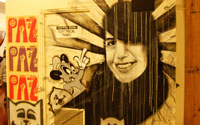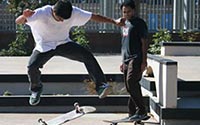 Fielding A Team
Even without a financial climate to support top-notch fields, courts and facilities, South Los Angeles boasts a collection of athletes ranging from eager children to devoted skateboarders to casual enthusiasts.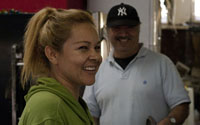 Power in Political Participation
South LA citizens do not have a high level of political participation. South LA Power Coalition strives to show citizens the power and change that can come from political participation.
By Aaron Liu
A QUICK CONVERSATION WITH MANUAL ARTS' TODD ENGLE
Assistant Principal Todd Engle has worked at Manual Arts High School for 19 years, far longer than any of his colleagues at the school.
He's worked at Manual Arts long enough to watch immigrants families who came during the 1990s assimilate to American culture. He's taught long enough to see gangs thin out and racial tensions simmer down. He's stayed long enough to see economic prospects liven up for the surrounding community.
For Engle, two decades in Vermont Square makes for a completely different world.
"I had students literally get their shoes stolen in the '90s," said Engle. "Looking back, I can hardly believe that stuff happened."
Engle believes that improving economic conditions have contributed to the decline in delinquent activity.
"There's more services, the stores in the neighborhood are better -- all of that stuff has improved," said Engle. "As the economy in the neighborhood and the services in the neighborhood have improved, they've counteracted the influences of gangs."
Engle started out as a science teacher in a school that was "very overcrowded." Most of his students were ESL language learners.
"When I first taught at Manual Arts, I taught almost all of my classes in Spanish," said Engle. "I had six periods -- five periods for class and one period for conference. I taught all five of my periods in Spanish, and then took on an extra-period of teaching, which was in English."
Engle has seen the number of ESL students go down over the years. He attributes this to declining immigration rates since the 1990s.
"It's a reflection of the demographic make-up of the neighborhood," said Engle. "There aren't as many recent immigrants as there were in the 1990s. Those who came here have stayed longer."
2012 marks the first year in Engle's time at Manual Arts where the school has not been overcrowded. Engle also noted that gang activity in the school has gone down since he's arrived. He's even seen a decline in racial tension in the community.
He's afraid that prolonged economic strife could undo such gains.
"It worries me, to be honest, that the economy hasn't been going so well," Engle confided. "I do really see a connection between the conditions at school and the conditions that we're living in."
JULIAN C. DIXON PARK: A PLACE TO SHOOT HOOPS
Jaman Brooks, 16, goes to Julian C. Dixon Park everyday to shoot hoops.
"Since I've been out here, it's been pretty calm," said Brooks. "There's no gang-banging, nothing of that sort happens out here."
"A lot of people play basketball out here," he added. "A lot of people play soccer. It's pretty chill."
Yet the 16-year-old, like many of the parks visitors, isn't up-to-speed with the identity of the park's namesake.
"Is he the owner of the park?"
The park is actually named after a former House representative for West Los Angeles who developed a reputation as a powerful lawmaker in Washington D.C. before his untimely death in 2000. Julian C. Dixon was elected to the House of Representatives in 1978 -- during his 22-year tenure, he served on the ethics committee, the intelligence committee and chaired the rules committee for the Democratic National Convention in 1984.
Julian C. Dixon Park is hardly the only nod to the late congressman in Los Angeles. Southwestern University School of Law, where Dixon went to school, opened the Julian C. Dixon Courtroom and Advocacy Center in the spring of 2004 in the Bullock's Wilshire building -- an architectural landmark designed by the same architects who drafted Manual Arts High School (in Vermont Square). His namesake has also been used for a subway station downtown (in acknowledgment of his role in obtaining federal funds for such transit projects) as well as for a library in Culver City.
Julian C. Dixon Park, however, is one of the few nods to the congressman where you can shoot hoops.
MANUAL ARTS HIGH SCHOOL AND THE MAN WHO BUILT LOS ANGELES:
Manual Arts High School was founded in 1910 with high ambitions. 
"This place was like the USC of manual labor," said Ernesto Rivera, a substitute teacher at Manual Arts who also resides in the area. "In 1910, this community was all about labor. That's why they named it Manual Arts."
After an earthquake in 1933 demolished the original school, calls for a new school were heeded. The architects of the new school?
John Parkinson and his son Donald Parkinson -- the same architectural firm that drafted USC's 1919 Master Plan.
Many consider John Parkinson to be the man who built Los Angeles. He designed some of the city's most historic buildings -- City Hall, Union Station, the Memorial Coliseum, and the Art Deco landmark Bullock's Wilshire.
He's also the man responsible for what many consider to be the most architecturally sound buildings on USC's campus, including Bovard Auditorium (1919), the Physical Education building (1927) and the Student Union building (1927).
Parkinson's career as an architect started in Seattle during the late 19th century, where he designed a number of schools and banks before moving to Los Angeles for better prospects. He then built Los Angeles' first skyscraper in 1904, and went on to partner with various architects on building projects in the city until his death in 1935.
Manual Arts -- one of the last Parkinson buildings designed while John Parkinson was alive -- embodies elements of Streamline Moderne -- a style of architecture that came about during the mid-1930s and placed an emphasis on curving forms, horizontal lines and smooth and sleek finishes.
Marcello Vavala, a preservation associate at the Los Angeles Conservancy, explained that the 1933 earthquake in particular brought about more stringent building codes for schools, which drove the city to build many schools from such an era in such a fashion.
"Streamline Moderne was a more stripped-down style," said Vavala. "It saved on costs. There weren't many projecting corners."
VERMONT SQUARE BRANCH: ITALIAN RENAISSANCE IN SOUTH CENTRAL
The Vermont Square Branch Library stands in an open park on 48th and Vernon. Constructed in 1913, it is the result of Andrew Carnegie's philanthropic efforts at the turn-of-the-century to supply towns across the world with public libraries.
It's lucky to be around today.
"Carnegie libraries were a very finite thing," said Vavala. "Very few of them survived."
Out of the six Carnegie libraries built in Los Angeles, only three remain.
"Because of the time period in which they were constructed, a lot of the libraries were very small in scale," Vavala explained. "Many of the smaller branches were demolished to make way for a larger branch."
The Vermont Square Branch almost met such a fate. Records kept at the Conservancy show that in 1987, a plan to build a new library that would phase out the Vermont Square Branch passed an environmental standards test.
Fortunately, the city never demolished the Vermont Square Branch. Instead, the library now holds the status of being the oldest operating library in Los Angeles and has been declared a Historic-Cultural Monument.
Built in Italian Renaissance fashion, the Vermont Square Branch was designed by architects Silas Burns and Sumner Hunt. Hunt and Burns also designed a variety of craftsman-style houses in the West Adams community, as well as the Spanish Colonial Revival-style Automobile Club of Southern California in 1923. Hunt also drafted the blueprints for the Bradbury Building (featured in the 1982 movie Blade Runner) in 1893 before he was fired and replaced by George Wyman.
"Sumner Hunt had a reputation of staying at the forefront of architectural trends," said Vavala. "He was very adept at picking up on the trends of the day."