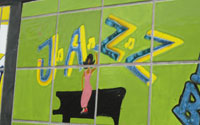 Central Avenue: A Legacy of Jazz
While Central Avenue is no longer the center of Los Angeles' jazz scene, it maintains an important connection to it today. LA's most prominent jazz artists came through here.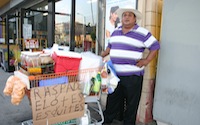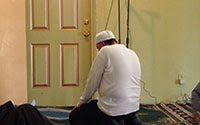 By Audrey Noble
Alejandro Ramirez, 16, carries boxes full of clothes, ready to sell to potential customers. But rather than displaying these items on racks along a store wall, Ramirez hangs them on the smooth, black rods that make up the front fence of his house.
"Instead of owning a store, something we can't afford right now, we sell clothes from the comfort of our own home," said Ramirez. "This is our business."
Ramirez is one of the many residents on 54th St. using their homes as a place for a clothing business. Throughout the area, clothes being sold on the streets and outside people's homes are becoming more and more popular.
"It's a cheap way to make money," said Ramirez. "And I don't have to worry about getting to work when work is right here."
Ramirez helps his mother five days a week selling t-shirts, jackets, dresses, and shoes. They count on neighbors and others wandering the streets to buy their goods. It is Ramirez's job to attract and deal with customers.
I will be grading the overall story, the quality of the packages, the quality of the individual elements inside packages (photos, audio, editing, captions, etc.) and how everything works together. Again, the audio slideshow and other elements should not duplicate the content in the text bar.
"My mom doesn't work anywhere else," said Ramirez. "This was all her idea and I make sure everything goes well."
"This is usually a side job, like on the weekends," said Robert Monroy, a neighbor of Ramirez's. "But it's grown to be bigger; it is not uncommon for people's living to come from these things."
Like Ramirez, Monroy sells clothes from his home as a source of income for his family. Having done this for about a year,Monroy has experienced nothing but success.
"Business so far has been pretty good," said Monroy. "People come because it's closer and they can find good stuff for cheap."
"I'm usually only open during holidays so people can get gifts," said a woman who set up her business on the street. "But to keep this open all day, everyday is ideal."
The woman, who wished to remain anonymous, sells clothing along Avalon. She uses folding tables and the rods attached to awnings to showcase her products, which include tracksuits for kids, women's shoes and even beauty products.
"The clothes I sell are sometimes new," she said. "But most are donated from friends and family."
Although clothing has been previously worn, it can go as cheap as $5 for a pair of shoes and $10 for jackets. Local store owners are starting to face problems with what they see as new competition.
"It makes business a little harder," said Maria Alarcom, store owner of Arly's Fashion.
Alarcom owns a family run store that has struggled to generate any sort of income. Along with a tough economy, Alarcom now has to worry about these types of businesses as competition.
"People are desperately looking for cheap clothing," said Alarcom. "I try to give that to them, but I can't make the prices as low as those people who sell clothes from their homes or I'm out of a business."
Some store owners, however, see no reason to panic.
"These people sell used clothes, what's the appeal in that?" said Vilma Hernandez, manager of The Real Clothing Store. "Clothing stores still sell better quality clothes that the customer deserves."
Hernandez's store sells popular brand names, such as Rocawear and Apple Bottom jeans, at fair prices. Although her store is holding a liquidation sale, she hopes for the best and still plans to expand her business even further with a store website.
"It's at the very early stages, but that's where I see my business going," said Hernandez. "I want to attract new customers from outside the area and maybe that will get me out of this economic crisis."
"I want to try to do this as long as I can," said Monroy. "Nothing is easier than earning money from doing your work at home."
But for Ramirez, he doesn't want to limit himself to working from the comfort of his home and hopes for a bigger future.
"It would be cool to own my own store one day," said Ramirez. "It's definitely a dream that I would want to come true."