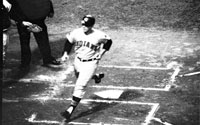 The Forgotten Field of Dreams
The history of the original Wrigley Field located on Avalon Blvd in South LA that used to be the home of the Los Angeles Angels in the 1950s and early 1960s.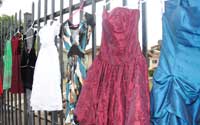 Clothes on the Streets
This is a look into clothing vendors in unexpected places: on the streets and outside people's homes.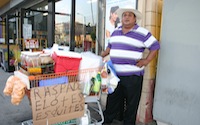 Forescee Hogan-Rowles firmly pounds her desk twice as she explains the adversities facing small businesses in a community known for crime and poverty. As President and CEO of the Community Financial Resource Center, Rowles has seen the struggles of the South LA business climate.
It's very hard to qualify for your first business loan when you barely make enough money for the basics, said Rowles. Some of the people we work with are working check to check and are just looking for that break, and nine times out of ten we can give it to them.
The CFRC is a public-private partnership between the City of Los Angeles and the local banks, mainly Wells Fargo and Bank of America, which provides alternative loan options to local entrepreneurs.

According to the Community Reinvestment Act, commercial banks must put a portion of their profits back into low-income or moderate-income communities. Banks can meet the criteria of the CRA by providing financial services and investing into local businesses and organizations.
We have seen a moderate increase in most communities, while others have only gotten a slight push, said Rowles. Unfortunately, South LA has stayed relatively the same for the past 20 years.
Although the law encourages banks to give loans to small businesses, many South LA entrepreneurs do not qualify for loans based on the bank
'
s standards. The lowest possible bank loan available is $5,000 and some struggle to provide enough collateral or cannot propose that can pay it back.
You can come here nine times out ten and we can get you a loan, if you
'
re willing to start small said Rowles.
When a new entrepreneur comes to the CFRC, the organization takes a complete, hands-on approach to preparing aspiring business owners for success. Clients can receive loan counseling and business preparatory courses as they organize their business. Rowles also said they partner with other non-profits to help clients with other necessary skills.
We have people that can
'
t read. We have people that have never owned a computer. We really are reaching low-income, grassroots people. Those are our success stories.said Rowles
Eric Johnson was one such success story who developed a full-fledged business from an idea for a T-shirt. Johnson created That
'
s Tyte brand in 1995 but he did not have early success because he didn
'
t know much about business.
I didn
'
t really begin to take off until 2005 when I first went to the CFRC. I took all their class, three, four, five times and I benefitted from all of them, said Johnson. The CFRC helped me out so much. They helped me get a loan, get all the materials I needed and get a website.
I would call the CFRC a blessing in disguise but they are right there on the street and they want you to come in.
The CFRC is the only place in Los Angeles that provides micro-loans starting at $500. The low risks of these loans allow entrepreneurs to start small with the potential to grow bigger. Additionally, entrepreneurs are put in groups so they can coach and encourage each other throughout the progress of their business.
Rowles said entrepreneurs can get easily discouraged when they operate alone and believes that group support can make a big difference in their success.
I had a fashion design business and I manufactured dresses and sportswear for women in downtown Los Angeles, but I got tired of it,said Rowles. I don
'
t know where my goal came from but I said that if I don
'
t make a million dollars in 5 years then I
'
m out.
My husband, fiancé at that the time, told me that I really shouldn
'
t get out now, because my victory is just around the corner. But I was like
'
Eh, you
'
re not doing this
'
and I didn
'
t make my million so I decided to quit. I didn
'
t have anyone to help me or know anybody who knew the business so it was really hard.
Rowles said that she went to 18 banks before she received her first loan for $5,000. She said the long process to get a loan was disheartening, but she wouldn
'
t have achieved anything unless she pushed herself.
This is why I always encourage people to not give up and to keep on pushing. You don
'
t know when your next big opportunity is right around the corner.