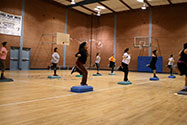 Getting Your Fit on in South Park
While obesity rates are an increasing epidemic in the south side of Los Angeles, some are fighting back, paving the way to a healthier lifestyle.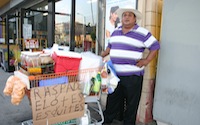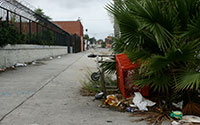 Faces of the Street
Close to 9,000 men, women and children are homeless in South Los Angeles. While their struggles are similar, each has an individual story to share.
By Will Laws
Nearly 10 years ago, when the skate park at Gilbert Lindsey Recreation Center was built, its future looked bright.
A combined lobbying and fundraising event by recreation center workers and local residents had succeeded in securing enough funding from the city government, and the poverty-stricken area partially separated by gang alliances started to feel a little bit more like a community.
"We'd jump the fence to skate late at night," said McDaniel Fuentes, 21, who learned how to skateboard after the park was built so he could hang out with his older brother. "We'd have a boombox out here, so the music was bumping while we skated... It was really dope back then."
The city even supported programming to teach children how to skateboard, and often held street-skating competitions.
"I had maybe 100 kids in the skateboard program I was running," said recreation assistant Todd Gessel. "We had a van- it was great, I could bring them to places that they had never been [to skate]. The program was really successful."
But when the economic downturn struck in 2008, the government decided to cut costs by withdrawing public funding from parks and recreation initiatives- and low-income areas like South Central didn't have the private resources to recover.
"In the west side or the valley, in the affluent areas, there's all the programming you want," Gessel said. "Because they have money, the parents will pay for it... it's indicative of the values that our government places on youth and people in general."
When the top sheet of the park's quarterpipe was burned, supposedly by a delinquent, the ramp was simply taken away instead of being repaired.
Not long after, the park's "fun box"- a skating term for an elevated structure used for grinding and jumping into- was removed after being routinely damaged.
"Bikers would come and with their pegs, they'd land and make holes in the box," said Ivan Reynoso, 16. "It wasn't that durable, it was just hard rubber."
Now, all that's left are two small rails, a center structure similar to a fun box, and an entry ramp and halfpipe that are both covered with divots and cracks.
"The skate park is dead, man," Fuentes said. "Rated on a scale of one to 10... I'd say this is like, a 1.5."
And those lessons and competitions that Gessel used to organize have long since been discontinued.
In fact, the facility's webpage doesn't even list the skate park as one of its features.
"The entire budget for the skateboarding program was $30,000," Gessel said. "I believe there were seven skateboarding programs [across Los Angeles County]. They've all been eliminated."
The cuts didn't just affect the people that use the park- they hurt the people like Gessel that work there, too.
"I've had my hours cut to 20 hours per week," Gessel said. "[The government] cuts from the bottom, rather from the top. A position like mine, I'm in jeopardy of losing my job all the time."
Fuentes thinks the best option for the park to gain long-term sustainability would be to lobby the city council to rebuild it with cement, which is how the top-shelf parks are constructed.
But he admits that he isn't sure if anyone is willing to spend the time and money to spearhead such a colossal project.
"I don't think it's that hard to go ahead and do the whole city council thing," Fuentes said. "But, I mean, who has the time? People got other things to do."
The kids that do still use the park are confident that it could experience a revival if it was granted another wave of funding.
"You go around and see other places with smaller parks that are better because they put more money into it," Reynoso said. "A lot of kids go to those. It doesn't matter how ghetto the place is, they just keep going."
"The first generation skated here every day," Fuentes said. "If they do fix this park, make it cement, this will come back a lot."
Gessel says if the park has a chance of surviving, the youth skaters have to take a stand for what's theirs.
"If the kids don't step up somehow and start caring for [the park]- I mean it might have three, four years [left]," Gessel said. "It's falling apart. It's on its last legs now. I try to do what I can, but without the okay from the city, there's really nothing I can do unless it's on my own time."
"It sucks how people come here to the park and end up doing stupid stuff to it," Fuentes said. "But at the same time, no one says anything."
Will anyone say anything before it's too late?