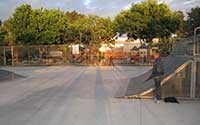 South Central Skate Park on Verge of Collapse
Since public funding has been taken away from Gilbert Lindsay Recreation Center's skate park, it has fallen into disrepair, and skaters have struggled to find a place to legally craft their skill.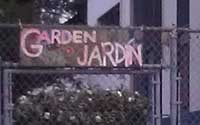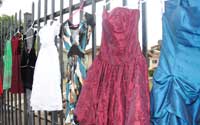 Clothes on the Streets
This is a look into clothing vendors in unexpected places: On the streets and outside people's homes.
Every Friday in a small, house-like facility on South Central Avenue, members of the Masjid Bilal Islamic Center gather for worship. Leaving their shoes at the door and their minds open to lessons from the Quran and the center's imams, congregates spend an hour in services before heading off their own separate ways.
"We are a tight-knit community here," said Imam Talib Abdullah, an assistant imam at the center. "I was raised here and we are all very strong and family oriented."
With a sizable congregation of 300 to 400 members, the center has plans for expansion with goals that they hope will have a positive impact on the community.
"This center right here is temporary," said Imam Abdul Karim Hasan, who has been teaching at Masjid Bilal for 40 years. "This is not where we want to be. We have plans for a magnificent facility on this very spot.
Those plans include a mosque, community center and a mixed-use retail and residential development. These have already been approved by the city of Los Angeles.
In 2007, the center built a 16 classroom educational facility, the first phase of its expansion plan. It is host to the Center for Advanced Learning, a kindergarten through fifth-grade public charter school.
"We did not originally own all of this property, but we own over an acre of land here, almost to downtown Los Angeles," Hasan said. "That is a lot of property for one ownership, but we intend to buy more and expand more."
Hasan maintains that all of this property will be developed through donations, not loans.
"We don't believe in commercial loans because you put a burden on people," Hasan said. "We want to raise the money for the construction and then start building. We will have no mortgage and no external payouts. We will just be able to live."
The school cost Masjid Bilal $1.5 million. But with no mortgage and no commercial loans on the building, it is already paid for.
Over the last 10 years, economic conditions have slowed down fundraising efforts, putting future projects on hold.
"We are not a poor community, but we are not affluent. When the economy goes down we feel it," said Imam Rushdan Mujahid-Deen, an associate imam at Masjid Bilal. "The charity goes down, people work more and make less. We have to look for other ways to supplement that income, but we tough it out."
Expansion of the Masjid Bilal Islamic Center is part of a larger effort to provide more services for congregates.
"I envision a whole new center with social services programs, entrepreneurship classes and ESL classes," Mujahid-Deen said. "We want to be providing services that are vital for a healthy community."
One particular area of concern is a lack of Muslim businesses in the area around Masjid Bilal, specifically grocers and restaurants. Muslims have dietary restrictions that prevent them from eating certain foods, such as pork, and drinking alcoholic beverages.
According to the Islamic Food and Nutrition Council of America, items that are allowed for consumption are called halal, which means lawful in Arabic. All halal animals must be properly slaughtered to be allowed for eating.
"We have to go to special markets and restaurants outside the city to meet our dietary needs," Mujahid-Deen said. "We want to establish businesses in this area to make it easier for us."
Imams at the center also hope that new facilities will make people from outside Islam feel more welcome. Oftentimes they must battle the misconception that their facilities are only for Muslims.
"Anyone is welcome to come," said Abdullah. "We open it up to all people who are decent and respectful in the community. We want to show them our hospitality."
According to Hasan, it is in the best interest of the center to share whatever it has, whether it be food, clothes, money or knowledge.
"We believe that an intelligent society is a safer society and an ignorant society is a dangerous society," Hasan said. "We don't want to keep people ignorant, we want people to know. People may not want to know, but at least we can give them the opportunity."
With no real timetable for the completion of the center's next phases, it is uncertain when the vision for the Masjid Bilal Islamic Center will be finished.
"We don't need much to start, but we want to be able to pay for every phase we have in that structure," Hasan said. "It worked with the school and we think it will work again. When we get the money that we feel we need, then we will start talking with the architect to see if it is the right time to start."