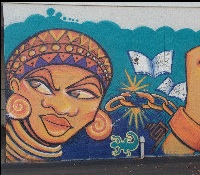 Clubs Not Crime
Schools and organizations in and around Vermont Square give students an after-school outlet, helping to keep violet crime down.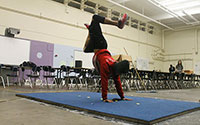 A Dive Into South L.A. History
The Vermont Square neighborhood touches on a great deal of history. Click here to read about the community's architectural landmarks and watch a visual representation of how the community has changed over the years.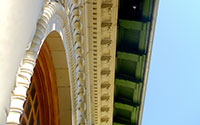 Community centrality at the circulation desk
From free Internet to family-oriented programs, patrons of all ages and librarians consider the Vermont Square Branch Library to be a valuable and central resource for needs in their community.
Nestled deep within the massive city block that makes up Manual Arts Senior High School is a building bustling with students eager to learn about the opportunities available to them after high school, from how to begin a career to how to get to graduate school.
Inside, they confer with Evelyn Pruneda, a college access administrator with L.A.'s Promise, who helps run the Manual Arts College Center.
"To go to an actual university, it's a really abstract notion for a lot of kids and their parents," Pruneda said, "so it's really important to make sure that students, early on, are informed and aware of what it takes to get to college."
Pruneda and Los Angeles Unified School District college counselor Eboni McDuffie work together from the college center to make sure the school's 1,800 students are educated about everything college, from the A-G requirements to qualify for admission to the University of California system to how to apply for financial aid, and make sure parents are educated too.
"Probably about 99 percent of our students are first-generation college students, so a lot of parents don't really know what the process looks like," Pruneda said. "It's really helpful for them, for the students, to have their parents informed and educated about what it takes to get to college and to be successful."
The college center sponsors a variety of events, such as information sessions and on-campus presentations from universities, and manages partnerships with the Federal TRIO Programs, such as Educational Talent Search and Upward Bound, which provide low-income and first-generation college students with additional academic support.
But Pruneda said she and McDuffie are just two counselors catering to 600 seniors, so they turn to a group of about 40 Manual Arts juniors and seniors known as College Ambassadors to reach out to their peers.
"They know everything about tons of resources of how to research college, what the applications look like, financial aid process, that kind of thing," Pruneda said. "They are also assigned to senior and junior homerooms, so they go every week and disseminate information. They're also responsible for students in their senior homeroom, so making sure that they're applying to colleges and, if they're not eligible, making sure those students know their options."
One of the biggest problems Pruneda said they've run into is the discrepancy between LAUSD's high school graduation requirements and the A-G requirements of types of classes high school seniors need to have completed to qualify for admission to the UC system. LAUSD's requirements lacked a few key components of the A-G requirements, so even highly qualified students would miss the opportunity to apply to a UC.
"[We're] working with counselors to make sure they're programming students into A-G requirements," Pruneda said. "For a lot of students, they're tracked into just graduating. They don't even know they're being tracked like that, so by the time senior year comes around, even if they have straight A's, they don't have the classes that they need to qualify for the four-year school."
Now, though, LAUSD has aligned graduation requirements with A-G requirements so all students will graduate college-ready, beginning with the class of 2016.
Still, with the efforts of the college center and L.A.'s Promise, college acceptance rates have more than doubled in just a few years, from 18 percent of seniors being accepted to four-year universities in 2010 to 40 percent in 2012.
Pruneda began working at Manual Arts about five years ago through L.A.'s Promise, then called Mentor LA, an organization that works to turn around schools in South Los Angeles. In addition to Pruneda working in the college center, other L.A.'s Promise staff members are in place throughout the school to help facilitate improvements, both in the classroom and in the community. College preparedness is just one of many positive changes since L.A.'s Promise began to operate at Manual Arts on a full-scale in 2009, such as decreases in suspensions and increases in API scores.
"We're really focused on having a complete neighborhood turnaround," said Kashara Moore, L.A.'s Promise's director of teaching and learning at Manual Arts. "We're focusing on the social, emotional and physical health of the students and the community, and this is done through providing support, through programming our hallmark programs…as well as college preparedness."
L.A.'s Promise has also brought partnerships with community members from business such as Citi-Year, who helps provide afterschool tutoring, and Woodcraft Rangers, who organize afterschool athletic- and arts-based activities. Moore also works with teachers to make improvements inside the classroom to boost student engagement and, therefore, performance.
"Straight lecture, that's all gone [in classrooms]," Moore said. "It's all about student engagement, checking for understanding on a content basis…One of the things that we're looking for is to have more student inquiry-based objectives in the classroom."
Moore said these practices have already seen increases in student engagement, as evident through improved academic performance and retention rates as well as decreased suspensions.
"It goes back to the basic research and understanding of the relevancy of the schoolwork and what they're doing," she said. "It starts with expectations. L.A.'s Promise is coming in and really making it clear that all of our students have the option for college or career after high school."