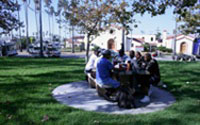 A walk in the park
Meet the people who hang out in or pass through Chesterfield Square Park, one of South L.A.'s most vibrant community spaces, in this interactive multimedia feature.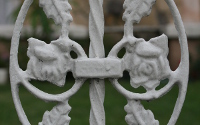 The ghetto grows up
The ever-changing South L.A. neighborhood builds a new image, making the transition from profound crime to nascent renown with continual investment from USC.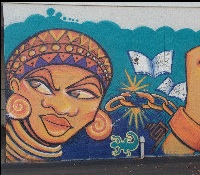 Clubs Not Crime
Schools and organizations in and around Vermont Square give students an after-school outlet, helping to keep violet crime down.
Regina Clifton will never forget the violent sound of her 7-year-old self screaming, the glazed look in her mother's eyes as Clifton was raped by her mother's boyfriend.
"My mother put makeup on my face, she brushed my hair back, and she sat there and watched," Clifton said. "That was the scariest moment of my life, and I will never forget it. I was screaming her name. I will never forget."
Clifton can hardly say she had a childhood. She was born on August 2, 1987 in Stateburg, South Carolina to a mother who never wanted a daughter.
"She always wanted boys. She got upset when I was born."
At just 9 months old, while Clifton was sleeping in her play pen, her mother poured gasoline around the room and lit a match.
Clifton was rescued before she had been badly burned, but the fumes of the fire had done enough damage to convince the doctors that she would never regain consciousness.
So her family waited, and all they could do was pray.
According to her family members, a woman with "cat eyes" approached them at night and reassured them that Clifton would wake up by 7 a.m. the next morning, but within minutes the woman had mysteriously disappeared.
"I guess it was an angel," Clifton said.
By the time it was morning, the doctors were claiming they had all witnessed a miracle--Clifton had woken up, although doctors said she wouldn't be completely normal from the damaging effects of the fumes.
"I'm a slow learner," Clifton said. "It's very, very hard for me to go to places and fill out applications on my own. Other things I can do on my own, but some things I just can't."
Clifton had survived, but it was just the beginning of a string of tumultuous years ahead.
Living in poverty with a mother who was constantly absent, Clifton was forced to take care of herself and her younger brother, Reginald, before she had even reached her teens.
Homeless, and with no money to spend, Clifton turned to stealing to provide for her brother.
"I had to steal clothes and shoes and food," she said.
She and her brother stayed in abandoned houses, breaking in and staying in one place for just a few days at a time.
Clifton was around 9 years old when her grandmother found her and her brother in an abandoned house and brought them back to her home, where she raised them for a few years.
Clifton ran away multiple times, but was always found by the police and returned to her mother's home.
It was Clifton's thirteenth birthday, while she was staying at her mom's house, when again she was raped, this time by her stepdad, as her mother watched.
It happened multiple times before Clifton was encouraged by a close friend to stand up for herself and tell a school counselor.
"I was too scared to tell anyone because my mom's husband threatened to blow my head off if I told," she said.
Clifton was then placed in foster care until she was 17, but her home-life only improved marginally.
"It was not okay. My house mother was very mean. We never got along. I got beaten by her," Clifton said.
As soon as she turned 18, Clifton was finally on her own.
She met her husband, Shannon Strain, when she was 20 years old, just a few months after giving birth to her first son, Zyqwon.
A couple years later, and just three months after giving birth to her and Strain's daughter, Maya, Clifton and her two children moved to Los Angeles to live with Strain and his son, Isaiah.
Strain, who had been living in Los Angeles for several years beforehand, but periodically came back to South Carolina, introduced his family to New Beginnings, where he had been living since 2000.
Now 25, Clifton is living with her husband and three children at New Beginnings and has completely cut off ties with her mother.
She has lived there, on and off, since 2010.
Clifton is currently trying to enroll in a program to receive her G.E.D., and she hopes to one day go to college and get a nursing license.
"I want to get a job and go out here and work so I can be independent and prove to my mom that I can do something with my life," Clifton said. "My mother told me I would never be somebody. She called me ugly, she called me names. She said a lot of things, but I'm still standing from all that."